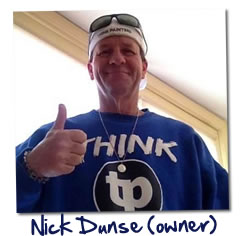 Are you happy with the work we've completed on your home or business?
We are very proud of the painting work we do for our customers. There is nothing that makes us feel better about our work then when one of our customers takes the time to leave us a great review on one of our online business listings.
Please consider taking the time to leave us a review on our Google Business listing or our Houzz Listing. We'd really appreciate it!
Here Are Instructions On Leaving us A Review.
(you only need to choose 1 method from below)
Google Local
(you'll need a @gmail.com account to do this or signup for one here)
Click Here to Leave a Review on Google
Houzz Reviews
Step #1. Please visit our Houzz Business Page Here.
Step #2. Please Click the "Write A Review" button we've circled in the graphic below and take a minute or two to rate us and leave a review on your experience with our services.