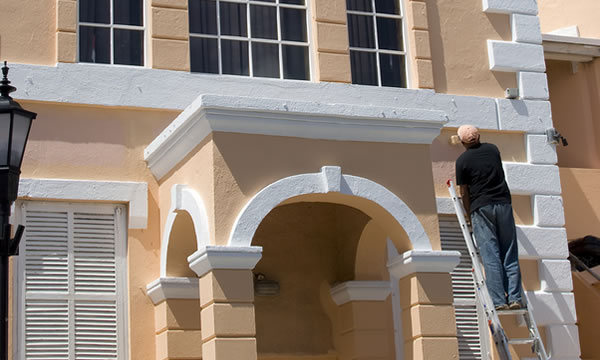 If you are thinking of selling your home there are few home improvement projects that have as great an impact as a fresh exterior coat of paint on your home.  Changing or at least refreshing the exterior paint on your home completely revitalizes the look of your home and makes it more attractive to potential buyers.  There are also finish choices like flat and satin that can help hide imperfections in your siding by reducing glare and reflection.  These are important things to know if you want to make the most impact with your new paint.
We can probably both agree that you want your home to make a good impression and a freshly painted house in modern and desirable color schemes is a rock solid way to go.  The right paint choices and color schemes can add thousands of dollars in value to your home but it's important to do a little research or even consult with professional painting contractors within your area.
You don't want to paint your house only to find that the colors are turning off buyers and not helping you sell your home faster.  The best exterior paint colors should take into consideration other homes in your neighborhood and additional environmental surroundings. Some colors just clash with their environment and you want to rule these out quickly.  A good color choice also takes into account the roof color of the home, any stonework or brickwork and other strong design elements of the home.  Your landscaping and the foliage or shrubery you have around your property will also make a difference.
Don't forget the architectural style of your home either, certain home styles only look great with the traditional color schemes for that particular style of home.  There are a lot of choices when you are painting your home to try and sell it faster, or for more money.
When you work with an exterior painting contractor your home will benefit from their many of years of experience.  Professional Painters are usually in-tune with the current color trends which makes the job of color selection quite a bit easier.  Your painting contractor will have a number of suggestions based on the recent projects they've completed.  If you don't quite have the budget to paint your entire home there are other options as well that will make a big impact.  Painting your front door or any trim on the home is another inexpensive way to quickly enhance the look of your home.
When you are selling your home you need to make the choices that are popular and desirable in the current home buyers market.  This includes the right paint colors, the right trim colors and the right brands of paint.  Not only that we've also got different textures and application methods that can change the appearance of your exterior.  All the more reason to contact a professional painting contractor in your area.
Compared to other costly home improvement projects like a new roof or new siding a fresh exterior paint job looks just as fantastic and won't put such a huge dent in your wallet.  If you're looking to sell your Massachusetts home then discuss the value in painting the exterior of your home with your Realtor.  Once you've made the decision to paint you should contact ThinkPainting and we'll come out and provide you with some advice and an accurate estimate to do the work for you.