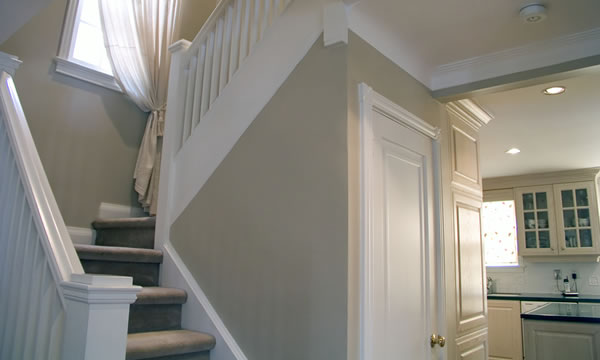 Painting the interior of your home is a great way to breathe new life into otherwise dull and boring rooms.  Maybe you have a favorite sports team you'd like to theme your room after, or maybe you have a young child and want to add some creative flair to their room.  Because interior painting is an affordable home improvement project with no special training required it's become very popular.
With so many different modern paints, finishes and textures that can be applied inside of your home the choices are almost endless, and can be somewhat confusing.  This is where having the assistance of a professional painting contractor makes a big difference.
Painting your interior, or a room inside of your home isn't as easy as buying a couple gallons of paint, a roller, a brush and slapping down a few coats.  Professional journeyman painters usually need to go through 3-4 years of apprenticeship and training on the job before they are qualified to paint on their own.
There really is quite a bit more too it if you want a good looking finish that doesn't look like you painted it yourself.  The final appearance of your interior paint job will boil down to two things.
How well you prepared the surface to be painted.
How you actually apply the paint.
By properly prepping the surface this means you must scrape, sand, patch, and fill every hole, dent, knick and surface imperfection in your wall.  A fresh coat of paint will only make this issues stand out like a sore thumb if they aren't repaired before hand.  Obviously this isn't the exciting part of painting an interior room but we can guarantee it's the most important.  There is no paint, regardless of its cost, color, or manufacturer's claims that will be able hide the imperfections in an unprepared surface.
When you apply the paint it will make a difference if you use a roller, a brush or a spray gun.  Professionals use a spray gun because you get a very consistent application of paint that won't run or streak down your walls.  We can also change spray nozzles and use additives to give your paint a textured look, commonly found on ceilings.
Here's What Else You'll Be Doing:
You'll need to tape off any trim or window moulding.
You'll need to remove any light switch plates or plugin receptacles.
You'll need to remove any baseboard heaters in the room.
You'll need to use drop cloths on your floor.
You'll need to apply patch filler to your walls and give them a good sanding.
You may need to apply a primer before your final paint color.
You'll need to apply more than one coat, no matter what they told you at home depot.
Most homeowners could easily spend an entire weekend just trying to prep and paint one room of their home.  The amount of work involved is often overwhelming and leads to situations where we find half painted walls or sections where you can still see the drywall and old paint or stains underneath.  Most homeowners aren't professional painters, we understand that.
When we come into a clients home for to paint their interior or even just a single room we roll out the red carpet from top-to-bottom.
We prep the entire room.
We mask all surfaces not to be painted.
We use canvas drop cloths on your floor and furniture not removed.
We can do the patching and sanding of your walls.
We paint the entire room for you.
We guarantee it's going to look better than when we found it!
If you are planning an interior painting project for your home in the near future then you need to give ThinkPainting a call or use our online request form today.  One of our interior painting professionals can come and inspect your potential project and provide you with a very clear and competitive estimate for us to do the work.