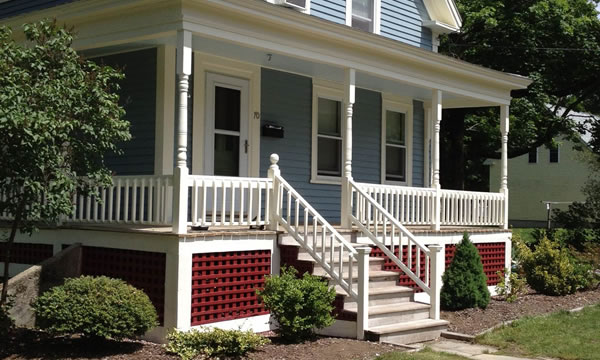 Changing the exterior color of your home is a big decision, not to mention a very involved project.  It's a great way to make your home stand out though and if you are looking for the most cost effective home improvements there are few that can match the visual impact of a freshly painted home exterior.  Fresh new colors on your home will enhance your curb appeal and make your home look more current, and modern.
Here are a few key planning tips from a professional painter with more than 30 years experience in residential painting.
Before planning to paint the exterior of your home you should first really do a thorough inspection of your current exterior finish.  Pay close attention to the details such as bubbles forming under the paint or sections with flakes peeling off.  These are signs your home needs to be repainted but are also signs that you'll be doing a lot of extra prep work too.
A professional painting contractor will be able to inspect the exterior of your home and spot these issues almost immediately.  They will be able to offer advice on how to repair any areas that will cause problems for you down the road.
How Do You Choose Which Color To Paint Your Home?
This is a common question and one we're often asked by our customers.  It's not a simple answer either, because it's your home.  The colors and the specific look you choose will depend on many factors.  Some good recommendations would be to pay closer attention to the homes in your neighborhood.  Just by looking you'll be able to find many color schemes that you find attractive.  What color are your neighbors homes painted? can you even see your neighbors homes?  These are all important points to consider as well.
Another good resource is obviously the Internet but more specifically looking through websites like Houzz where homeowners and contractors share the impressive work they've done.  This type of visual research will really kick-start your imagination and get the ideas flowing for your own exterior painting project.
Usually the best option for painting your home is to go with a professional painting contractor in your area.  They can take a look at the exterior of your home and specific needs and then based on their experience come up with several different color scheme and paint options for you.  Visiting any local paint retailer in your area will have you coming home with more paint samples and education then you'll be able to comprehend.
What Kind Of Prep Work Will Be Required?
If you're current house paint is old and already peeling or bubbling in some areas then the answer is you'll be doing lots.  All of this loose paint will need to be scraped off and the sub-surface sanded.  Some troublesome spots might even need the application of filler, and then a few sandings to smooth everything out.
After this process (which can take many hours) the entire exterior of your home will need a really good washing.  Professional painters usually use a pressure washer, along with special cleaning solutions to wash your home.   This will remove any dirt, oils, molds and mildew that may prevent the paint from adhering to your homes surface. A thorough cleaning is vital and ensures excellent paint adhesion.
When a professional painting contractor paints your home there is usually more effort and time put into the prep work then the actual painting work itself.  We have special spray guns and painting equipment that let us apply paint quickly but when it comes to the actual prep work, a tool will only do so much.  It really takes a skilled craftsman who know's what he or she is doing to properly prep a house for paint.
This careful prep process is why many exterior painting contractors offer multi-year warranties on their work.  They know the paint was applied properly and will last a long time.
Choose A Professional Exterior Painting Contractor
Changing the exterior color of your home isn't a small project.  Many homeowners who choose to paint the exterior of their home find themselves in over their heads quickly.  You'll need to do a lot of research and a lot of measuring in the early stages and the prep work to paint an average sized family home could take several days.  You need to be willing to do this work, or the paint will look horrible in only a few short years.
When it becomes time to paint your house then you're likely going to need to rent equipment and probably buy painting tools you'll never use again.  If you don't want the burden of painting your home on your own then the benefits of contracting a professional painter are many.
They have the knowledge and expertise.
They can help you with tough color choices.
They can help you decide on the right paint brands.
They have the special tools and equipment required.
They are licensed and insured for your painting project.
You'll receive a warranty on your exterior painting work.
There is a lot of work that goes into a stellar looking exterior paint job on your home.  If you plan on living in your home for a while this isn't a project you want to be doing every 3-5 years.  When you work with a professional exterior painting contractor like ThinkPainting you'll have a home that looks great for the next 15 years.