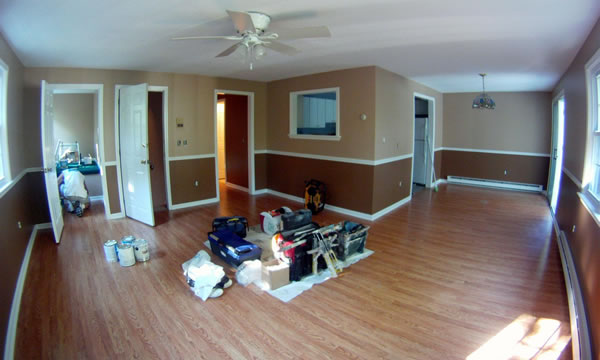 Interior and Exterior Painting Services in Boston, Massachusetts.
ThinkPainting provides professional painting and finishing services in and around the Boston Massachusetts area. You can put our 30+ years of painting experience to work for you now on any number of interior or exterior painting projects.  We are a reliable, high quality painting contractor.
We can handle all sizes of residential and commercial painting projects from changing the color of a single room in your home or offices to painting an entire townhome development, to painting a newly built shopping center.  It doesn't matter what size, scope or scale of painting project you have we'd be happy to provide you with an estimate.
It takes great employees who happen to be skilled journeyman painters to finish the projects we do.  We feel we've put together a great team of tradespeople that can complete challenging and demanding projects.  Thanks to their dedication to our trade the quality of our painting work is evident throughout our many completed residential and commercial projects throughout Boston, MA.
Painting Projects We Can Do in Boston, MA:
Front Door Refinishing
House Painting
Pressure Washing
Deck Staining
Office Painting
Retail Space Painting
Facility Maintenance
Commercial Buildings
[divider type="plain" width="medium" align="aligncenter" clear="clearleft"]
Check Out Some Of  Our Past Projects
Your interior or exterior painting project is important to you and it's an important decision that you are making too.  You will have to look at the finished work for a long, long time.
ThinkPainting will work closely with you so we can paint your vision.  The quality of your finished project is important to us and we we'll bend over backwards to make sure you're happy with the work we've done.