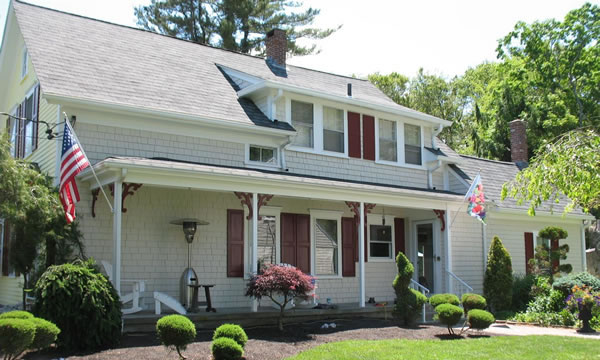 Do you think your Bellingham, MA home is finally ready to be repainted this year?  Painting the exterior of your home not only enhances your curb appeal but it a great paint job will also continue protecting your home for many years.
Exterior paints are designed to help protect your homes outer walls from the elements. Poor quality exterior paint jobs don't last very long in the diverse environmental conditions that we have in the North East. Depending on the exterior surfaces being painted you'll be faced with a variety of paint choices and it can be quite confusing for many homeowners.
THINKPAINTING is a full service painting contractor serving the Bellingham, MA area.  We specialize in complete residential exterior repaints from repainting your old 2500 square foot character home to painting the exterior of a new home under construction.  As an owner operated company your project will be supervised by master painter Nick Dunse.
When you choose Think Painting to complete your exterior house painting project, we go through all the tough choices with you and explain everything to you through the eyes of professional painters who do this everyday, not somebody in a home improvement store trying to sell you some expensive paint.
You may have many special considerations that need to be taken when painting your home, such as high windows and trim, special surfaces, or maybe a neighbor close by that won't appreciate any over-spray on their home or property.
When you choose Think Painting, you are choosing a company that really cares about your project. We want to really improve the look of your home's exterior and we can show you different trim colors, accents and other expert finishing techniques that will really make the exterior of your home "pop". You'll have the nicest looking house on the street!
We offer a level of knowledge and expertise in the way we paint houses that is truly un-matched by other painters in our area.
Exterior House Painting Contractor Bellingham MA
Exterior House Painting.
Exterior Pressure Washing (prep work).
Out Buildings and Sheds.
Garages.
Decks and Patios.
All Exterior House Painting Projects Include:
On-site visit (or several) to go over your project.
Color consultations until you're happy with the choices.
Pressure washing and scraping away of all old paint.
Meticulous site preparation and protection of areas not to be painted.
Application of any base coats or primers. (if needed)
Application of top coats and trim or accents.
Job walkthrough with you.
Final details and finishing work.
Some Past Painting Projects


3 Tips To make Your Exterior Painting Project Go Smoother
Here are three important tips every homeowner should be aware of before they consider painting their home exterior or hiring a professional to do so.
#1. Clear Away Any Brush or Tree Growth Near Your Home
This is actually fairly important because trees, shrubs and other bushes close to your home help contribute to the spread of micro-organisms onto the exterior of your home. Might not seem like a big deal right? Wrong, these micro-organisms can take hold (more readily on some siding materials than others) and contribute to problems like mold and mildew which can make paint adhesion very difficult.
Pollens and tree sap particiles that become airborne and stuck to the exterior of your home don't help matters any. By clearing away any excess or overgrown brush that is close to or touching your home you'll greatly reduce the amount of contaniments on the surface you'd like to paint. You'll also have better access and a better view of any areas that might have been covered up or hard too see in the past.
Getting a good look at your project will be important for an accurate estimate and if the project is easily accessible for the painter it will be reflected on the estimate in the reduced amount of time they have to spend doing this exact same thing.
#2. Give Your Home Exterior A Thorough Cleaning and Pressure Wash
After you've cleared away any sources of contaminants from your home it's time to give the exterior of your home a thorough cleaning. This is best handled by a professional with access to a mobile pressure washing unit and special commercial grade cleaners that can quickly strip away the surface contaminants on your home. Tree saps, pollens, airborne dust, soot from chimneys, cleaning agents you've used in the past, these things all build up on and bond to the surface of your home. It's these areas (if not properly cleaned) that usually cause the paint to bubble, peel or chip long before it ever should have.
#3. Replace or Repair Any Damaged Siding or Trim
Another benefit to clearing away all the brush and cleaning the exterior of your home is you'll be able to spot any areas that might need to have minor repairs. Such as rotting or warped fascia boards, any loose or broken window trim or pieces of siding that might have been damaged (if you pressure washed your home yourself!). These repairs can be (and should be) completed long before your home is due to be painted, so there are no surprises for the painter who's taken on your project.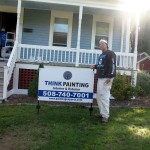 If you've got an Exterior Painting project for your home give Think Painting a call and we'll come out and give a competitive estimate along with some friendly and helpful advice on your project.
We understand that you have many choices when it comes to a house painting contractor in the Bellingham, MA area.  We just want you to know that when you choose Think Painting for your house painting needs you are taking on a motivated partner in making your home look better!