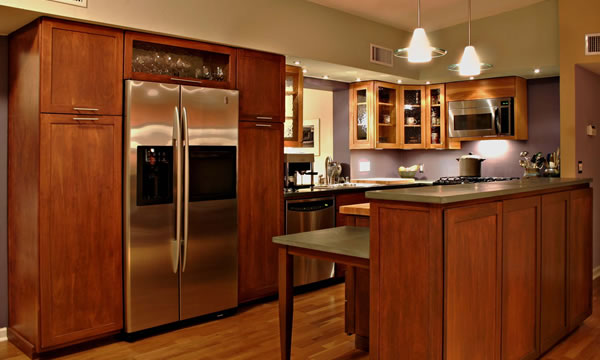 Wood in it's natural state looks great "as is" and can enhance the interior beauty of any home.  The downside is that the natural wood tones may not always fit with your existing decor and other wood furniture or accents you may have throughout your home.  The other problem is that it leaves the wood inside your home unprotected.  To remedy these problems we can apply a wood stain to enhance the beauty and grain of your wood decor.  A good quality stain will also protect the wood from greasy fingerprints, spills, insects and other contamination (think kids).
A good quality wood stain will enhance the natural beauty in the wood.  It will accent the grain, and the natural patterns contained within.  Most wood stains are a mixture of dyes and pigments that are then blended with either water (water based) or mineral spirits (oil based).  These are not products you want to spill in your home so you'll want to take extra care when masking and covering up areas around your project.
What Will You Be Staining?
It makes a difference in the type of stain or lacquer you should choose.  If you are painting kitchen cabinets and have some extra time on your hands then maybe you'll want to use an oil-based stain because it gives you more working time before the finish has dried.  Maybe you are planning to paint a solid wood handrail on your staircase for this you may want to choose a faster drying lacquer stain so you can apply, sand and re-apply in a shorter time frame.  There is no one-size fits all when it comes to staining interior wood in your home, there is always a type of finish suited for your particular project.
Application Consistency Is Key
This is important to the final appearance of any interior wood stain.  If you aren't consistent with how the stain is applied it will look different.  Even wood of the same species, stained with the same tint can look different if the paint was applied via different methods.  For example if 1/2 a cabinet face was stained using an air sprayer and the other 1/2 using a paint brush there would be a noticeable difference in it's appearance.  This is important if you have a large staining project that you are planning on tackling over multiple days.  You will have an inconsistent finish.
This is why professional interior painting contractors usually choose to apply stains using a special spray gun.  This ensures the uniform application of the stain and it's much faster so we complete the project in a fraction of the time, which is important when you have to do multiple coats and sand in between.
Oil Based or Water Based?
This is a very common question and one we get asked all the time.  Here are some important points to consider with each type finish to help you decide which might be best for your interior wood staining project.  If you choose to have a professional painting contractor do the staining for you they will be able help you with this decision.
Oil-Based Wood Stains
Take longer to dry which is nice for bigger projects like floors, cabinets or wood paneling where you don't want any dried marks.
Can be applied with a natural bristle brush.
Will not raise the grain of the wood which means less sanding will be involved.
Water-Based Wood Stains
Can be very low odor, which is good for sensitive homeowners.
Will dry much faster which is nice for one day projects.
Do not require any special thinners for cleanup, just soap and water.
Have an incredible variety of colors and shades available.
If you are looking to enhance the natural beauty of the wood decor within your home then applying the right type of stain will make a difference.
More Interior Wood Staining Tips
Make Sure You…
Choose a high quality stain product.
Prepare the wood surface with a light sanding.
Remove any non-wood items from the project.
Mask or cover any areas not to be stained.
Shake or stir the wood stain can very well, this is very important!
TEST your stain by applying it to an inconspicuous area first.
Apply a second of wood stain if you would like a darker, more richly tinted stain.
Wear appropriate gloves, a facemask and make sure you are working in a well ventilated area.
Make Sure You Don't…
Skip the prep work, you'll be sorry.
Spill the stain, you'll really be sorry.
Apply using different techniques – it will look different.
Work in a confined space without adequate ventilation.
Apply a 2nd coat if the 1st coat isn't completely dry.
Most interior wood staining projects are small such as a bookcase or a small table and are easy for a homeowner to do on their own in a few hours.  Do you have a larger interior wood staining project in the Taunton, Massachusetts area?  ThinkPainting can help you with all kinds of wood staining projects.  We are a full service professional painting contractor specializing in the application of wood stains.  We can complete your large interior wood staining projects such as wood wall paneling, wood structural beams, kitchen cabinets, stair railings and more.