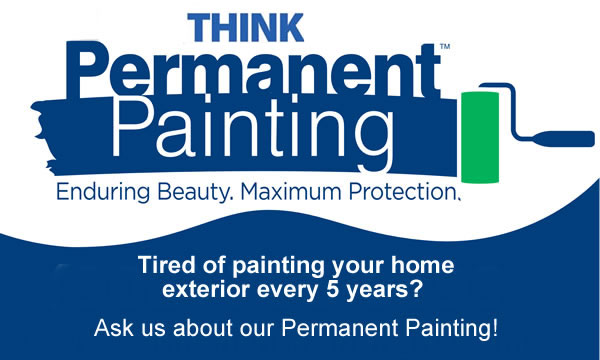 Permanent Exterior House Painting
Painting the exterior of your home is generally a job most homeowners are going to have to go through every 5 or so years with our Massachusetts weather.  Despite the best efforts of your painter mother nature is tough to contend with and standard exterior paints were essentially designed to fail and be replaced with new paint.
What If There Was An Exterior Paint and Application Process That Could Give You a Worry Free Exterior Finish For As Long As 25 yrs.
Well there is… And it's called ArmorCoat Permanent Painting System and THINKPAINTING is your local specialist in South Eastern Massachusetts.
More than just a new exterior paint the product called ArmorCoat,  is an entire exterior painting system that when followed to the letter can guarantee a beautiful exterior finish on your home for life.  The paint itself ArmorCoat is a high build finish that is ten (10) times thicker than your ordinary professional grade exterior paint.
Tell Me More About ArmorCoat Permanent Painting System
One of the most common concerns from homeowners about their exterior paint is the durability and resistance to mother nature.  Mold, mildew, flaking and peeling can all make a paint job look horrible over time but ArmorCoat permanent painting system solves these problems by providing maximum protection against the elements.  It's breathable as well and can prevent wood rot and other expensive repair situations.
ArmorCoat easy to maintain, and easy to keep clean, with just a pressure wash or two per year depending on how much airborne pollens, dirt, dust etc… you have in your area.
How The ArmorCoat Process Work?
The process starts with you setting up an appointment with your local Permanent Painting specialists, ThinkPainting.  We'll come out to your home and provide you with a consultation, color samples an estimate and all of the information you're going to need to do your own due diligence.
When you choose us to paint the exterior of your home with the ArmorCoat Permanent Painting System we'll start by showing up at your project on-time, exactly when we say we will.  We will arrive with our ThinkPainting truck and marked trailer that is basically our painting warehouse on wheels.
We'll spend the first hours of your painting project carefully masking off areas that won't need to be painted like windows and trim and placing drop cloths over exterior features such as shrubbery, gardens, and anything else we don't want to any overspray on.
ArmorCoat Requires Extreme Preparation

The entire area we'll be painting will be pressure washed to remove any existing dirt and grime build up such as pollens, and mold and mildew.  We want it gone, no trace.  We then proceed to scrape and sand the entire surface to be painted removing all the loose paint and other debris left behind after the pressure washing process.   This leaves you with a clean slate which will provide maximum adhesion for the ArmorCoat.
If your structure requires any minor exterior repairs we can take care of them for you at this time.
Applying ArmorCoat Bonding Primer To Your Home Exterior
Primer is required as part of the permanent painting system and we will be applying the  ArmorCoat Bonding Primer to all of the surfaces that will be painted.  The primer acts as a foundation and will ensure that we get the best paint adhesion possible.
Applying Sealer Over The Bonding Primer
Now that you have a solid coat of primer, we need to caulk and seal all points of water entry.  This is another layer of protection in the permanent painting system and is the final step before applying the top coat.
Applying The ArmorCoat Exterior To Your Home
After you're home as been thoroughly prepped, primed, and sealed we can then finally proceed to actually painting the top coat of color onto your home.  Using professional grade spray equipment and brushes we apply the ArmorCoat over the bonding primer and sealant.  You'll be left with a luxurious soft-satin finish and likely the nicest looking home on your entire block.
Cleaning Up After Ourselves
You won't even know we were on your property aside from the beautiful new look we've given your home. We'll meticulously clean up after ourselves so you won't have to.  Your warranty card will be issued to you upon final inspection of our work and your approval.
Permanent Painting Questions?
Q: Is The ArmorCoat Permanent Painting System Environmentally Friendly?
A: Did you know that paints and stains are one of the largest contributors to VOC emissions, second only to automobiles. ArmorCoat has low VOC levels below 150 GPL meeting or exceeding the EPA regulations and not having to re-paint your home every few years makes us a very good GREEN painting choice.
Q: Is ArmorCoat More Expensive?
A: Initially yes, it's going to cost more money.  This is because it's not just a coat of paint applied by a guy with a pickup truck and a brush.  We are a professional company and licensed dealers for the Permanent Painting product.  We will take our time following the system to a "T" so you'll be left with nothing but a beautiful new finish on your home.  We put in the additional work required to prep, prime and seal your home before painting which ensures the system will work as intended and be warrantied for as long as 25 yrs.  No other painters can offer you this confidence!
Q:  How Does The Warranty Work?
A:  It's what we call a "Dual" warranty meaning that it's going to be backed up by two companies.  The manufacturer of the product and Permanent Painting USA the distributor. As the installer we also back the labor should a product defect ever arise.  Should you ever have an issue with your paint you'll have a warranty card that will provide you with the contact details and how to get the warranty process started.
Who Is The Permanent Painting Contractor In Our Area?
ThinkPainting is a full service painting contractor with more than 30 years of experience in the painting trades.  We have painted hundreds of houses over the years and gone back 5 or 10 years later to repaint them again thanks to weather we get on the east coast.  After doing much research and testing of the Permanent Painting product ArmorCoat we've determined it's an excellent fit for Massachusetts homeowners who'd like to paint it once and forget it.
If you'd like to learn more about the ArmorCoat Permanent Painting system and get an estimate to have your home painted then give us a call or fill out the form today!